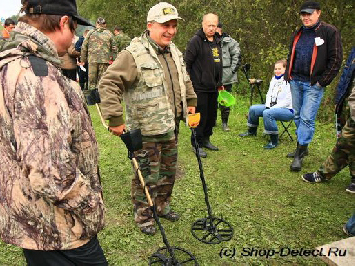 Demonstration coils NEL Tornado and prizes from NEL - on a meeting on September 4 searchers in the Podolsk district, Moscow region.
A pleasant surprise was the appearance on a meeting of the Ukrainian company Nel, caused quite a stir in the search community the release of their amazing search coils of the most popular metal detectors: Garrett ACE 250 and Fisher F2.
A small digression, in a nutshell about the advantages of coils Nel they give:
Detection depth as compared with standard coils - increased to 50%

Improved discrimination of metals

Increased stability and sensitivity to highly mineralized soils

Excellent for the separation of color signals near black metal
It is one thing to see beautiful figures depth indicators in text form, and the other - to see it all live! Then demonstration coils NEL directly on meeting of the best possible way could dispel all doubts and skepticism. Employees Shop-Detect.Ru already tested independently coil NEL, at depth. We have no doubt that they really give a significant increase in the sensitivity of metal detectors, but apart from that it was found that the depth is not the only trump these coils.
Frankly, we were amazed, and other characteristics of these coils. Improved quality of discrimination, and most importantly it's stunning performance on the separation of colored objects lying close to the iron.
Reincarnation Garrett ACE 250 with coil NEL was very noticeable. Metal detector entry level almost turned into a pro detector in many respects. And the interest of the public was not a fake, all seen with our own eyes, could give it a try and test coil NEL.
But once again, I note, I am personally not surprised by the depth, so I knew that it was true, and it grows with these coils is strong enough. That's what struck me - is the quality of the separation of closely spaced targets! To be honest, I did not quite believe that NEL managed to make the coil is not only powerful, but also more convenient to work perfectly and share the goals of iron and closely spaced colored object.
Many of the participants also took part in the test and compare their detectors  Garrett ACE and Fisher (equipped with coils NEL). Many were surprised that their more expensive devices separated objects worse than with ACE with NEL coil
After the demonstration, the employee Nel long talked with the audience, and in the meantime we are received the Fisher F2 with NEL coil - run test it in the field.
Conclusions:
Depth - there is no doubt of its significant growth.

The quality of the separation of goals and discrimination in the simplest of devices equipped with coil NEL - like professional devices

The quality of the (production) - is super. Tightness. High-quality cast resin.

The main conclusion - with coil NEL can turn the device entry-level into a more powerful and efficient detector! And to make it absolutely for little money. This is beneficial!